Latin for Children A (Section 1)
with Mrs. Monica Chilbert
Term: Yearlong 2017-18, September 5–May 18
Instructor: Monica Chilbert
Grade Level: Grades 4–5 (or advanced 3rd graders)
Schedule: Mondays & Wednesdays, 1:00 p.m. (ET), 60–75 min.
Price: $575.00
Please note: Registration for this course is closed. Check back in February 2018 for our 2018-19 academic year course offerings!
Students in this course will enjoy a clear introduction to Latin grammar and reading that will also delight them and cultivate in them the wonder of language. Students study the first 2 noun declensions; the first 2 verb conjugations; the present, imperfect, and future tenses; other parts of speech (adjectives, prepositions, and adverbs); and learn to read and translate basic Latin sentences. They also acquire a Latin vocabulary of 240 words and learn many English words derived from Latin. This course utilizes Latin for Children Primer A (NEW Revised Edition), the first of three texts in the Latin for Children series.
Since 2001, the award-winning Latin for Children curriculum has been and continues to be a strong, inviting, and creative program designed to introduce grammar school students to Latin. It incorporates elements that will engage students of every learning style. As a step beyond just an exposure to the language, this course trains students in grammar, vocabulary, and English derivatives in a lively, interactive way. For a closer look at the texts used in this course, please follow these links and click "Look Inside": Latin for Children Primer A and Latin for Children Primer A History Reader.
Placement: This course is designed as an introductory Latin course; no prior Latin instruction is required. Students should be comfortable reading fluently and independently writing out sentences by hand. The course is geared toward rising 4th–5th graders or advanced 3rd graders. When considering whether this course is a good fit for your 3rd grader, please consider that in addition to readiness for the course content, students should be developmentally prepared to engage in the online classroom dynamic. If your student is outside of the recommended grade range for this class, or if you have further questions about placement, please contact us prior to enrollment to ensure proper placement.
*Required Texts: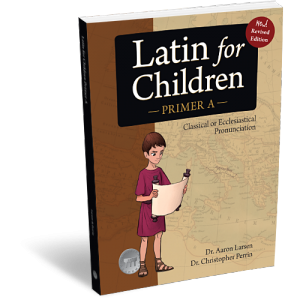 Please note: MP3 versions of the Latin for Children A chants will be provided to the students enrolled in this course at no charge.

*Required texts are not included in the purchase of the course.
**The new revised edition is required for this course, and older versions of the student edition and answer key are not compatible with the course. (Note: The content of the history reader has not changed). If you already purchased the previous edition of the text for use in this online course, please contact us at your earliest convenience so that we can coordinate an exchange and ensure that your student has the proper version before the start of the course.
Optional Resources:
Latin for Children Primer A Activity Book
This activity book accompanies Latin for Children Primer A, following chapter by chapter to supplement and enhance the practice of Latin vocabulary and grammar. With the activities, students will sail around the world, find their way out of dungeon mazes, rescue captive Latin words from an evil wizard, "week out" the wrong crossword puzzle questions . . . and more! The activity book is optional for this online class.
Latin for Children Primer A Answer Key
Latin for Children Primer A Answer Key features actual, full-size pages from Latin for Children Primer A, with answers to quizzes, exercises, and worksheets in bold print. The answer key is optional for this online class.
HeadventureLand.com
HeadventureLand.com is our premier classical education practice site. As students are learning Latin, logic, and other classical subjects, they often don't get enough opportunities outside the classroom to put their skills to use. With a creative, engaging environment such as Headventure Land, we believe that students will enjoy practicing and strengthening their skills without the need for prompting. HeadventureLand.com has a free Lite Zone as well as a more extensive Full Zone corresponding to Latin for Children Primer A.
Computer: You will need a stable, reliable computer, running with processor with a speed of 1 Ghz or better on one of the following operating systems: Mac OS X with MacOS 10.6 (Snow Leopard) or later; Windows 8, 7, Vista (with SP1 or later), or XP (with SP3 or later). We do not recommending using an iPad or other tablet for joining classes. An inexpensive laptop or netbook would be much better solutions, as they enable you to plug an Ethernet cable directly into your computer. Please note that Chromebooks are allowed but not preferred, as they do not support certain features of the Zoom video conference software such as breakout sessions and annotation, which may be used by our teachers for class activities.
High-Speed Internet Connection: You will also need access to high-speed Internet, preferably accessible via Ethernet cable right into your computer. Using Wi-Fi may work, but will not guarantee you the optimal use of your bandwidth. The faster your Internet, the better. We recommend using a connection with an download/upload speed of 5/1Mbps or better. You can test your Internet connection here.
WebCam: You may use an external webcam or one that is built in to the computer.
WebCam Recommendations: Good (PC only) | Best (Mac and PC)
Headset: We recommend using a headset rather than a built-in microphone and speakers. Using a headset reduces the level of background noise heard by the entire class.
Headset Recommendations: USB | 3.5mm
Zoom: We use a web conferencing software called Zoom for our classes, which enables students and teachers to gather from around the globe face to face in real time. Zoom is free to download and easy to use.


To download Zoom:
Visit zoom.us/download.
Click to download the first option listed, Zoom Client for Meetings.
Open and run the installer on your computer.
In August, students will be provided with instructions and a link for joining their particular class.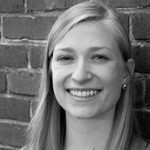 Monica Chilbert was classically educated at Covenant Christian Academy in Harrisburg, PA. She went on to earn her BA in philosophy from The Templeton Honors College at Eastern University in St. Davids, PA. During her undergraduate studies, she spent a semester at the University of Oxford studying Aristotle's Metaphysics and the life and works of J.R.R. Tolkien and falling in love with England. Monica then went on to teach literature, composition, and Latin at Trivium Preparatory Academy, a K–12 classical school in Arizona for several years before joining the Scholé Academy faculty.

Please Note: This recording is a sample of Latin for Children A with Mrs. Margaret Weaver.
from Classical Academic Press
Already purchased this course?
First, ensure your student is logged in. Then, hover over the account symbol in the upper right corner of your screen. Click "My Courses" to access the course information, syllabus, assignments, grades, and more!