Writing & Rhetoric Year 3 (Section 1)
with Mrs. Joanne Schinstock
Term: Yearlong 2017–18, September 5–May 18
Instructor: Joanne Schinstock
Grade Level: Grades 5–7
Schedule: Tuesdays & Thursdays, 10:00 a.m. (ET), 60–75 min.
Price: $575.00
Please note: Registration for this course is closed. Check back in February 2018 for our 2018-19 academic year course offerings!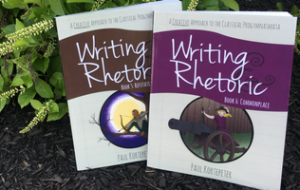 Writing & Rhetoric Year 3 continues in the Writing & Rhetoric series with Book 5: Refutation & Confirmation and Book 6: Commonplace. In this stage, students start to develop and hone their skills in persuasive writing and speaking. In the first semester, students learn to refute or defend certain parts of narratives according to whether the identified parts are unbelievable, improbable, unclear, or improper—or believable, probable, clear, or proper. After learning to identify the parts of a story that can be attacked or defended, students practice writing refutations or confirmations using sound arguments to explain their opinions. In the second semester, students continue to develop the art of persuasive writing and oration. They learn to create 6-paragraph essays that are arguments against the common vices of people and arguments in favor of common virtues. Students also learn to support a thesis statement, use comparison and contrast, introduce and conclude an essay, use a rhetorical device known as "the contrary," invent soliloquies to support an argument, deliver writing orally, and revise writing.
For a closer look at the texts used in this course, please follow these links and click "Look Inside": Book 5: Refutation & Confirmation and Book 6: Commonplace.
Placement: This course is designed for rising 5–7th graders who have had previous instruction in writing. Students who have successfully completed Books 1–4 of the Writing & Rhetoric series will be ideally prepared for this course. Students who are new to the Writing & Rhetoric series should be familiar with elements of narration, description, and exposition in writing and should feel comfortable writing a five or six paragraph essay when guided by prompts. The course material provides a light review of some of the concepts and program vocabulary that was introduced in the prerequisite material, and the course instructor will work to welcome and orient students who have a foundation in writing skills but are new to the program. Students will dive deeper into their understanding of narratives to make connections between their lives and stories. Students will be exposed to peer editing and be expected to assess their own writing by identifying the main argument, selecting appropriate textual support, strengthening phrasing, and finding grammar errors. Students will be expected to write on average one essay a week and begin to develop the skill of annotation (learning to take notes and comment on the readings). Recognizing that each student develops keyboarding skills at a different pace, neatly handwritten essays are acceptable, but typed essays are preferred. If a student does not have a strong command of grammar and a basic understanding of syntax, outside grammar instruction is advised. Occasionally students older than 7th grade are well suited for this course. If your student is beyond 7th grade, we ask that you connect with us prior to registration to confirm proper placement.
For further information on the Writing & Rhetoric series, please see the Classical Academic Press FAQ page.
Required Texts:*
Writing & Rhetoric Book 5: Refutation & Confirmation
Writing & Rhetoric Book 6: Commonplace

Optional Resources:
Writing & Rhetoric Book 5: Refutation & Confirmation Audio Files
Writing & Rhetoric Book 6: Commonplace Audio Files
These audio files allow students to engage their sense of hearing and their listening intelligence as Dr. Christopher Perrin, Christine Perrin, and Greg Lowe deliver the readings aloud in a thoughtful manner.
*Required texts are not included in the purchase of the course.
Computer: You will need a stable, reliable computer, running with processor with a speed of 1 Ghz or better on one of the following operating systems: Mac OS X with MacOS 10.6 (Snow Leopard) or later; Windows 8, 7, Vista (with SP1 or later), or XP (with SP3 or later). We do NOT recommend using an iPad or another tablet for joining classes. An inexpensive laptop or netbook would be much better solutions, as they enable you to plug an Ethernet cable directly into your computer. Please note that Chromebooks are allowed but not preferred, as they do not support certain features of the Zoom video conference software such as breakout sessions and annotation, which may be used by our teachers for class activities.
High-Speed Internet Connection: You will also need access to high-speed Internet, preferably accessible via Ethernet cable right into your computer. Using Wi-Fi may work, but will not guarantee you the optimal use of your bandwidth. The faster your Internet, the better. We recommend using a connection with a download/upload speed of 5/1Mbps or better. You can test your Internet connection here.
WebCam: You may use an external webcam or one that is built into the computer.
WebCam Recommendations: Good (PC only) | Best (Mac and PC)
Headset: We recommend using a headset rather than a built-in microphone and speakers. Using a headset reduces the level of background noise heard by the entire class.
Headset Recommendations: USB | 3.5mm
Zoom: We use a web conferencing software called Zoom for our classes, which enables students and teachers to gather from around the globe face to face in real time. Zoom is free to download and easy to use.


To download Zoom:
Visit zoom.us/download.
Click to download the first option listed, Zoom Client for Meetings.
Open and run the installer on your computer.
In August, students will be provided with instructions and a link for joining their particular class.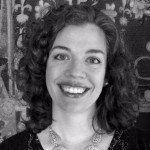 Joanne Schinstock earned a BA in journalism from Creighton University and a master in humanities from the University of Dallas. After studying a year abroad focusing on Italian language and culture in Florence, Italy, she began her teaching career as a middle school classroom instructor in language arts. While working at The Highlands School (Irving, Texas), she was the co-chair of the English department and a middle- and upper-school English instructor, teaching classes that included advanced placement language and composition and journalism. The Dallas Catholic Diocese recognized Joanne as a Work of Heart Award recipient, honoring outstanding teachers in the Dallas/Fort Worth area. Joanne also obtained an adjunct professor of humanities position at Brookhaven College in the School of Arts and Sciences (Farmers Branch, Texas). Joanne began teaching Writing & Rhetoric at Scholé Academy in 2016, and we are delighted to have her join us again this year.
From classroom teaching, her interests in the profession expanded to work in curriculum writing and professional development as a consultant for primary and secondary schools in North America and Manila, Philippines. Subsequently, she worked as a language arts instructor and curriculum coordinator for a 6-12th grade all-girls charter school in Chattanooga, Tennessee. Her duties included work with the Tennessee Charter School Association as an advocate for students, parents, and community members engaging in advocacy for disadvantaged students from lower socio-economic backgrounds. Joanne took a reprieve from teaching after seven years to give time to her children and husband. She and her husband, Brad, currently reside in Grand Prairie, Texas, with their children. They find joy in forging their family culture in homeschooling in the classical Christian tradition, participating in their church community, and delighting in weekend family outings.
"Mrs. Schinstock excels at providing my girls with very specific and constructive feedback on their written assignments. She strikes a good balance between challenging and encouraging students."
— Brandi C., Scholé Academy Parent
"She is fantastic in leading the kids to a truly contemplative, classical approach to writing. . . She was also excellent in communicating expectations, goals, and rubrics, as well as giving timely feedback on assignments. . . We love Mrs Schinstock!"
—Scholé Academy Parent
from Classical Academic Press
Already purchased this course?
First, ensure your student is logged in. Then, hover over the account symbol in the upper right corner of your screen. Click "My Courses" to access the course information, syllabus, assignments, grades, and more!