Term:
 Yearlong 2018-19, September 4–May 24
Target Grade Levels:
 Grades 10–12
Instructor: 
Mr. Kotynski
Schedule: 
M/W 2 p.m. EST, 60–75 min.
Price: 
$595.00
Students having successfully completed the equivalent of Latin 1-3 are eligible to enroll in Latin 4.  In Latin 4, students will apply their Latin knowledge and skills to the task of translating longer passages using Latin Alive! Reader. Students spend most of their time reading and translating original Latin works that span the centuries, from Cicero's Art of Friendship to Latin ecclesiastical writers (such as Augustine) to historians (such as Bede) to monarchs (such as Queen Elizabeth) to scientists (such as Isaac Newton). This course also incorporates lessons on original Latin poetry and provides historical information about Latin poets.
Placement:
This course is designed for students who have successfully completed our Latin 3 course, or an equivalent course of study.
Scholé Academy administers placement exams in order to get to know each student and find the best learning environment for him or her, as we seek to educate our students well and wisely. After registration, a placement exam will be provided to students who have not completed the previous level of Latin Alive with Scholé Academy online. Registration is finalized when the student's placement exam has been returned by the course instructor with placement confirmation.
High School Credit: This course is the equivalent of one high school credit in foreign language.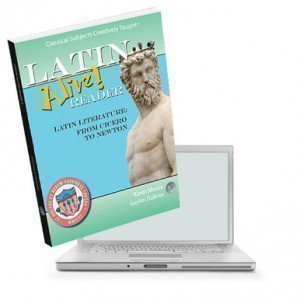 *Required TextsLatin Alive! Reader: Latin Literature from Cicero to Newton
*Required texts are not included in the purchase of the course.

Edward Kotynski
 grew up as a missionary kid in Indonesia, where his parents were Bible translators. He attributes his love of languages partly to his parents' work and his childhood experience. He received his BA in ancient languages from Wheaton College in Illinois in 2004, and his MA in classical languages from Vanderbilt University in Tennessee in 2007. Mr. Kotynski has been teaching Latin and Greek for the last fourteen years, mostly at classical Christian schools. He loves sharing his passion for the ancient languages with his students, weaving in historical context and modern connections. He has edited two volumes of Latin Alive! for Classical Academic Press and has also been working on their Greek for Children
series with Erin Valdez. He is very excited to be joining Scholé Academy this year. Besides Latin and Greek, Mr. Kotynski enjoys playing soccer, unicycling, and playing board games. He lives with his wife, five children, and two cats, enjoying the craziness of life together.
Computer:
You will need a stable, reliable computer, running with processor with a speed of 1 Ghz or better on one of the following operating systems: Mac OS X with MacOS 10.6 (Snow Leopard) or later; Windows 8, 7, Vista (with SP1 or later), or XP (with SP3 or later). We do NOT recommending using an iPad or other tablet for joining classes. An inexpensive laptop or netbook would be much better solutions, as they enable you to plug an Ethernet cable directly into your computer. Please note that Chromebooks are allowed but not preferred, as they do not support certain features of the Zoom video conference software such as breakout sessions and annotation, which may be used by our teachers for class activities.
High-Speed Internet Connection: You will also need access to high-speed Internet, preferably accessible via Ethernet cable right into your computer. Using Wi-Fi may work, but will not guarantee you the optimal use of your bandwidth. The faster your Internet, the better. We recommend using a connection with an download/upload speed of 5/1Mbps or better. You can test your Internet connection here.
WebCam: You may use an external webcam or one that is built in to the computer.
WebCam Recommendations: Good (PC only) | Best (Mac and PC)
Headset: We recommend using a headset rather than a built-in microphone and speakers. Using a headset reduces the level of background noise heard by the entire class.
Headset Recommendations: USB | 3.5mm
Zoom: We use a web conferencing software called Zoom for our classes, which enables students and teachers to gather from around the globe face to face in real time. Zoom is free to download and easy to use.


To download Zoom:
Visit zoom.us/download.
Click to download the first option listed, Zoom Client for Meetings.
Open and run the installer on your computer.
In August, students will be provided with instructions and a link for joining their particular class.
from Classical Academic Press