Persuasive Writing: The Argument Builder
Term: Spring 2019, January 21–May 24
Target Grade Levels: Grades 9–10; 11th–12th graders welcome
Instructor: Amy Morgan
Schedule: M/W, 9:30 a.m. EST, 60–75 min.
Price: $295.00
In this persuasive writing course, students will study persuasive (logical and rhetorical) writing—a study of "argument building" using elements from logic and the rhetorical "lines of argument" or "common topics." Using the award-winning text,
The
Argument
Builder,
 this course takes students through a study of common lines of argument or "topics," including testimony, comparison, relationship, and circumstance. Students study master orators (from Augustine to C.S. Lewis) and imitate their use of these topics as students build their own arguments, piece by piece. For a closer look at the text used in this course, please follow this link and click "Look Inside": 
The Argument Builder.
Placement Information: It is recommended (though not formally required) that students have a working knowledge of the core content from both introductory informal and formal logic courses before taking this course. The Argument Builder course assumes an introductory course in informal and formal logic have been completed; students who have taken both logic courses ideally equipped for this course.
High School Credit: This course is the equivalent of 1/2 high school credit in English, writing, or speech and debate.
"This has been one of [my daughter's] favorite courses, and she's both been challenged and learned a ton." —Tonya S., Persuasive Writing Parent
"I can see my daughter's creativity being unlocked. Her confidence in her ability to communicate her thoughts and ideas through the written word is really growing!" —Emily W., Persuasive Writing Parent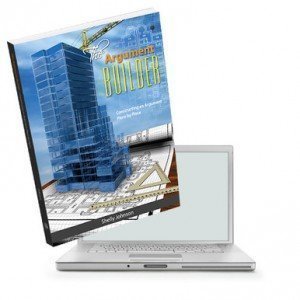 *Required Texts:

The Argument Builder: Constructing an Argument Piece by Piece
*Required texts are not included in the purchase of the course.
Amy Morgan earned her B.A. in Liberal Arts at St. John's College in Annapolis, MD and continued her education with an M.A. in TESOL/Applied Linguistics at Indiana University in Bloomington. For over 17 years, Amy has taught English to speakers of other languages in the university, community, and private tutoring contexts. Additionally, Amy has enjoyed educating her own two children at home in grades PreK-8 and teaching the K/1 Sunday School class at her church. When Amy's not doing her favorite thing, teaching (after all, isn't family vacation even just a bigger "field trip"?) you might find her smiling at the antics of her backyard chickens, cooking family meals, or reading aloud with her family.
Computer:
You will need a stable, reliable computer, running with processor with a speed of 1 Ghz or better on one of the following operating systems: Mac OS X with MacOS 10.6 (Snow Leopard) or later; Windows 8, 7, Vista (with SP1 or later), or XP (with SP3 or later). We do NOT recommending using an iPad or other tablet for joining classes. An inexpensive laptop or netbook would be much better solutions, as they enable you to plug an Ethernet cable directly into your computer. Please note that Chromebooks are allowed but not preferred, as they do not support certain features of the Zoom video conference software such as breakout sessions and annotation, which may be used by our teachers for class activities.
High-Speed Internet Connection: You will also need access to high-speed Internet, preferably accessible via Ethernet cable right into your computer. Using Wi-Fi may work, but will not guarantee you the optimal use of your bandwidth. The faster your Internet, the better. We recommend using a connection with an download/upload speed of 5/1Mbps or better. You can test your Internet connection here.
WebCam: You may use an external webcam or one that is built in to the computer.
WebCam Recommendations: Good (PC only) | Best (Mac and PC)
Headset: We recommend using a headset rather than a built-in microphone and speakers. Using a headset reduces the level of background noise heard by the entire class.
Headset Recommendations: USB | 3.5mm
Zoom: We use a web conferencing software called Zoom for our classes, which enables students and teachers to gather from around the globe face to face in real time. Zoom is free to download and easy to use.


To download Zoom:
Visit zoom.us/download.
Click to download the first option listed, Zoom Client for Meetings.
Open and run the installer on your computer.
In August, students will be provided with instructions and a link for joining their particular class.