Rhetoric Capstone: Thesis
Term: Yearlong 2018–19, September 4–May 24
Target Grade Levels: Grades 11–12
Instructor: Mr. Lockridge
Schedule: M/W 9:30 a.m. EST, 60–75 min.
Price: $595.00
Rhetoric Capstone: For purposes of clarity, this course should not only be considered for high school seniors, but also for any student wanting to write a substantial thesis and corresponding speech for delivery.
Thesis prepares students to meet the challenges of college-level writing in the liberal arts tradition. The thesis paper is the culmination of classical students' high school scholarship, as it provides an opportunity for them to showcase not only their content knowledge but also their ability to engage persuasively in "the Great Conversation." The thesis process—from the initial stage of finding a topic to the final day of presentation—is a jungle within which many students quickly find themselves lost. This course is a step-by-step guide that leads students through the process of writing a thesis paper, helping them avoid the typical false starts and dead ends of the journey. The course instructor walks alongside students as they engage in the challenging task of preparing and presenting a thoughtful, original response to an issue. Grounded in classical rhetorical theory, this course guides students through the five canons of rhetoric, piece by piece, as they write the six sections of their oratio. Students will ultimately become thinkers who can combine their wit, wisdom, eloquence, reason, and ethics for future writing endeavors.
Syllabus: Click here to access the syllabus for this course.
Placement & Prerequisites:
Students should have a working knowledge and familiarity with the informal fallacies (a good preparation would be Scholé Academy's Informal Logic course or The Art of Argument text).
Students should be able to apply the principles of formal argument construction (along the lines of Scholé Academy's Formal Logic course or The Discovery of Deduction text; also, Scholé Academy's Persuasive Writing course or The Argument Builder text)
Students must have completed Rhetoric 1 or an equivalent course studying the nature of rhetoric for the modern student; the common topics; the rhetoric processes of invention, arrangement, and style; and a wide range of schemes and tropes.
Students enrolling in this course should also be proficient in the use of MLA writing standards, employing those standards consistently in their own writing when necessary. This style manual is widely accepted for college students and academics, and beginning to adhere to writing standards is essential for college-bound students.
Scholé Academy administers placement assessments in order to get to know each student and find the best learning environment for him or her, as we seek to educate our students well and wisely. After registration, a placement assessment will be provided to students who have not completed the previous level of rhetoric with Scholé Academy online. Registration is finalized when the student's placement assessment has been returned by the course instructor with placement confirmation.
High School Credit: This course is the equivalent of one high school credit in speech and debate, composition, or language arts.
Q: Why do students need a thesis?
A: Dr. Alyssan Barnes, author of the Rhetoric Alive! series, addresses this question in her article From Sophomore to Senior: Why Students Need the Senior Thesis.
*Required Texts: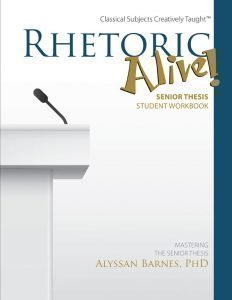 Rhetoric Alive! Senior Thesis: Student Workbook (Late Summer 2018 Release)
Writing with Clarity & Style: 2nd Edition.  ISBN-13: 978-1138560093; ISBN-10113856009X 
Office of Assertion: An Art of Rhetoric for the Acadmic Essay: ISBN-13: 978-1932236453; ISBN-10: 1932236457
*Optional, Supplementary Texts:
MLA Handbook, 8th Ed. ISBN-13: 978-1603292627; ISBN-10: 1603292624
*Required texts are not included in the purchase of the course.
Adam Lockridge 
is an experienced classical educator who was raised in Olathe, Kansas, a suburb of Kansas City. It was there that he met his wife, Rachel, who continues to be his greatest blessing and encouragement. They met in high school and were married as students at the University of Kansas where Adam studied Philosophy and Rachel studied Art Education. In addition to studying together at KU, Rachel and Adam spent their second year of marriage as Fellows at the Trinity Forum Academy in Maryland. He later taught upper school humanities at a classical school in Tennesee for seven years. At KU Adam was first exposed to many of the writers who would later inspire his teaching—especially Plato and the other Greek philosophers. He went on to complete his Master's degree in Philosophy at the University of Memphis. 
Computer:
You will need a stable, reliable computer, running with processor with a speed of 1 Ghz or better on one of the following operating systems: Mac OS X with MacOS 10.6 (Snow Leopard) or later; Windows 8, 7, Vista (with SP1 or later), or XP (with SP3 or later). We do NOT recommending using an iPad or other tablet for joining classes. An inexpensive laptop or netbook would be much better solutions, as they enable you to plug an Ethernet cable directly into your computer. Please note that Chromebooks are allowed but not preferred, as they do not support certain features of the Zoom video conference software such as breakout sessions and annotation, which may be used by our teachers for class activities.
High-Speed Internet Connection: You will also need access to high-speed Internet, preferably accessible via Ethernet cable right into your computer. Using Wi-Fi may work, but will not guarantee you the optimal use of your bandwidth. The faster your Internet, the better. We recommend using a connection with an download/upload speed of 5/1Mbps or better. You can test your Internet connection here.
WebCam: You may use an external webcam or one that is built in to the computer.
WebCam Recommendations: Good (PC only) | Best (Mac and PC)
Headset: We recommend using a headset rather than a built-in microphone and speakers. Using a headset reduces the level of background noise heard by the entire class.
Headset Recommendations: USB | 3.5mm
Zoom: We use a web conferencing software called Zoom for our classes, which enables students and teachers to gather from around the globe face to face in real time. Zoom is free to download and easy to use.


To download Zoom:
Visit zoom.us/download.
Click to download the first option listed, Zoom Client for Meetings.
Open and run the installer on your computer.
In August, students will be provided with instructions and a link for joining their particular class.
from Classical Academic Press