Well-Ordered Language Level 2
Term: Yearlong 2018–19, September 4–May 24
Target Grade Levels: Grades 5–6
Instructor: Ms. Scheidegger
Schedule: T/Th/F 9:15 a.m. EST, 45–60 min.
Price: $595.00
Well-Ordered Language Level 2 is the second part in a four-level series that presents grammar in a clear, orderly way, while simultaneously seeking to cultivate a child's wonder of language with instruction in the context of narrative and language, attractive illustrations, and samples taken from classic children's literature and poetry. The carefully crafted pedagogy of this series helps students learn the mechanics of grammar while they also see the power of language unfolding before them as they learn to gather and arrange words to express their thoughts clearly and accurately.
In the first semester, students continue the study of the four kinds of sentences (declarative, interrogatory, imperative, and exclamatory) and encounter principal elements, adverbs, adjectives, predicate verbs and direct objects, predicate nominatives, predicate adjectives, predicate review, and possessive nouns. In the second semester, students start sentence diagramming, and dive into prepositional phrases, compound elements, subject pronouns, object pronouns, possessive pronouns, interrogative pronouns, compound sentences, and relative pronouns and relative clauses. For a closer look at the texts used in this course, please follow these links and click "Look Inside": Level 2A and Level 2B.
Schedule: This course is designed with young learners' brains in mind! The course meets three times per week for 45-60 minutes, affording adequate instructional time while keeping on-screen sessions to a healthy duration for our youngest learners.
Placement: 
The previous level, Well-Ordered Language Level 1, helped students to master the eight parts of speech, along with object pronouns, prepositional and adverbial phrases, compound subjects, compound verbs, and compound objects. Students who have mastered these concepts are well prepared for the content of Well Ordered Language Level 2.
Scholé Academy administers placement exams in order to get to know each student and find the best learning environment for him or her, as we seek to educate our students well and wisely. After registration, a placement exam will be provided to students who have not completed the previous level of Well-Ordered Language with Scholé Academy online. Registration is finalized when the student's placement exam has been returned by the course instructor with placement confirmation.
Students should also be comfortable reading fluently and independently writing sentences (legibly!) by hand.
This course is geared toward rising 5th-6th graders. When considering whether this course is a good fit for your student, please keep in mind that in addition to readiness for the course content, students should be developmentally prepared to engage in a 5th- to 6th-grade corporate learning environment as well as the online classroom dynamic. If your student is outside of the target grade range, or if you have further questions about placement, please contact us.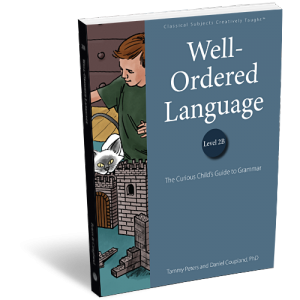 *Required Materials:
Please note: The Well-Ordered Language Level 2 songs and chants will be provided to the students enrolled in this course at no charge.
*Required materials are not included in the purchase of the course.
Allison Scheidegger earned her BA in literature with a minor in classics from Patrick Henry College. She served two years as a Latin teacher for Providence Preparatory Academy, a Scholé Community in Northern Virginia. After thereby discovering that she loved teaching languages, Allison dove into the world of online teaching. In all her experiences tutoring and teaching Latin, Allison's favorite part has been showing students the wonders of Latin. Allison has always loved taking things apart to find out how they work, and then putting them back together to be used anew. Language is the most exciting example of such functional beauty, so it makes sense that one of her favorite pastimes is learning and teaching languages. Whether through the concise beauty of an ablative absolute or the fun of using complementary infinitives, Allison hopes to infect her students with awe at God's amazing gift of language. She wants to give students the tools to understand, appreciate, and creatively employ language.
Computer: You will need a stable, reliable computer, running with processor with a speed of 1 Ghz or better on one of the following operating systems: Mac OS X with MacOS 10.6 (Snow Leopard) or later; Windows 8, 7, Vista (with SP1 or later), or XP (with SP3 or later). We do NOT recommending using an iPad or other tablet for joining classes. An inexpensive laptop or netbook would be much better solutions, as they enable you to plug an Ethernet cable directly into your computer. Please note that Chromebooks are allowed but not preferred, as they do not support certain features of the Zoom video conference software such as breakout sessions and annotation, which may be used by our teachers for class activities.
High-Speed Internet Connection: You will also need access to high-speed Internet, preferably accessible via Ethernet cable right into your computer. Using Wi-Fi may work, but will not guarantee you the optimal use of your bandwidth. The faster your Internet, the better. We recommend using a connection with an download/upload speed of 5/1Mbps or better. You can test your Internet connection here.
WebCam: You may use an external webcam or one that is built in to the computer.
WebCam Recommendations: Good (PC only) | Best (Mac and PC)
Headset: We recommend using a headset rather than a built-in microphone and speakers. Using a headset reduces the level of background noise heard by the entire class.
Headset Recommendations: USB | 3.5mm
Zoom: We use a web conferencing software called Zoom for our classes, which enables students and teachers to gather from around the globe face to face in real time. Zoom is free to download and easy to use.


To download Zoom:
Visit zoom.us/download.
Click to download the first option listed, Zoom Client for Meetings.
Open and run the installer on your computer.
In August, students will be provided with instructions and a link for joining their particular class.
Scanner: In this class, students frequently submit homework assignments by scanning pages from their workbooks. Students and/or their parents should have easy access to a scanner and the ability to use it.
The title of this series was inspired by a passage in a small book by Josef Pieper titled Abuse of Language—Abuse of Power. In the book, Pieper writes,
[T]he well-ordered human existence, including especially its social dimension, is essentially based on the well-ordered language employed. A well-ordered language here does not primarily mean its formal perfection, even though I agree . . . that every correctly placed comma is decisive. No, a language is well ordered when its words express reality with as little omission as possible.[1]
Language is the means by which we make sense of reality. It is the medium by which we perceive truth. Therefore, a well-ordered language—one that best represents reality with as little distortion as possible—would provide the best access to truth. Language education, then, should be focused on developing as complete and accurate an understanding of language as possible.
While the pursuit of truth through language involves careful thinking (logic) and eloquent expression (rhetoric), the youngest students must first acquire a solid foundation in the structure and function of the language itself (grammar). Mirroring the well-ordered nature of language, effective educators employ an approach to language instruction that is itself well-ordered, structured, and disciplined. Critics of a well-organized and disciplined approach often confuse its form with the disposition of those who employ it. The disciplined approach to language study can be employed through intimidation and aggression, but it can just as easily be administered with love and compassion. The disciplined approach—often mischaracterized as "drill-and-kill"—actually respects the humanity of the student because it acknowledges that children learn differently than mature adults do.
For children to feast upon the rich cuisine of that which is good, true, and beautiful, they should first be shown how to taste, savor, and digest what they encounter. Without proper instruction that will cultivate their taste, students may turn from the "feast" in disgust, reject further sustenance, and perhaps never return. By acquiring a well-ordered language, students will also acquire that taste for language that will lead them to the great feast that awaits. To impart this taste is to avoid one of the greatest errors of modern educational theory, which is the assumption that children can learn without first acquiring those tools of learning that we call the language arts.
—Tammy Peters and Daniel Coupland, PhD, with Christopher Perrin, PhD
[1]Josef Pieper, Abuse of Language—Abuse of Power (San Francisco: Ignatius Press, 1992), p. 36.
from Classical Academic Press